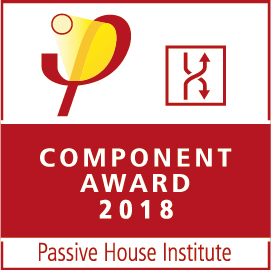 For healthy apartments
A Fresh-r ventilates between 20 and 120 m³ per hour. That is why it is so suitable for apartments. Because of the powerful copper heat exchanger, the Fresh-r is so compact that the device fits into the outer wall and pipes are not needed. And it's not just space that Fresh-r saves.
A Fresh-r ventilates as demand-driven, where and when it is required. The function of the residential zone determines which ventilation is most suitable. Considerable money is saved with simple adaptations. Furthermore, it's also a no-regret measure, since the de-central ventilator with heat exchange also continues to work under more stringent climate demands.
The limited maintenance is also quite easy and can be done by the residents themselves. So Fresh-r is the most cost-efficient solution for apartments – both the purchase and the maintenance.
Because Fresh-r turned out to be the best solution for keeping healthy and comfortable interior air up to snuff, it won the Mitros housing corporation 100%GZNDWonen Challenge in Utrecht and the Passive House Component Award in Germany.